POSTED BY
vnation editor
| Oct, 28, 2018
You've probably been part of the sharing economy. Have a spare room in your house? Rent it out on Airbnb. Have items around the house you no longer use? List them on eBay or Carousell. Have extra seats in your car on the way to work? Offer them up via UberPool or GrabHitch.
Now, what if you could get paid for the extra space in your computer that you don't need?
That's what Bluzelle, a blockchain startup, hopes to be able to do by as early as December 2019.
I sat down with Bluzelle CEO, Pavel Bains, to find out more about Bluzelle's journey and how it intends to achieve its goal.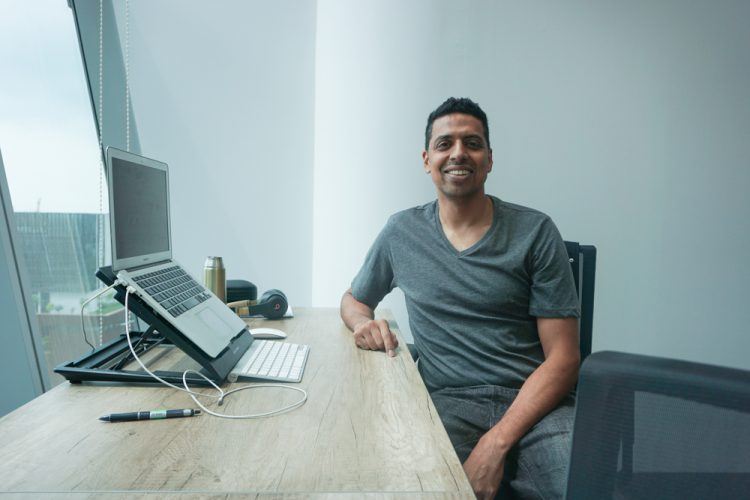 Bluzelle CEO Pavel Bains / Photo credit: Sim Yanting
An alternative to cloud database services
Using blockchain technology, Bluzelle is building a decentralized database service that businesses can use to store their data. It aims to replace cloud database services such as those offered by Oracle and Amazon.
Founded in July 2014, Bluzelle is designed like a marketplace.
The Singapore-based startup will serve companies that are looking for data storage. But Bluzelle isn't offering a centralized cloud service. Instead, it breaks down data, then encrypts and stores them across a large group of nodes (computers) called a swarm. Because each fragment of data is stored on multiple computers, should one node go down, the others are still there. This eliminates downtime and central points of failures.
Furthermore, successfully hacking into one node would only reveal a single fragment of data without any context, rendering the information useless. According to Bains, this creates a system that's reliable, secure, and completely scalable.
People can provide storage resources to the Bluzelle network in exchange for Bluzelle tokens (BLZ). These individuals have extra space in their computers, which they can add as nodes in the network and get paid for it.
Bluzelle isn't exactly a blockchain like Ethereum. Instead, it's what's known as a database protocol, or proprietary technology that other blockchains like Ethereum and Neo can connect to. Right now, Bluzelle is targeting blockchain companies and developers building decentralized applications (dapps), but its goal is to support non-blockchain projects in the long run.
"Eventually, anyone who wants to make an app, whether is it a mobile game, calendar app, or media app, has to store their data somewhere," says Bains, "And we want it to be on Bluzelle."
While Bluzelle's headquarters is in the city-state, it also has an office in Vancouver, Canada, where Bains comes from. The Bluzelle team is currently 16 members strong. The Singapore office focuses on sales, marketing, and finance, while the core technology and R&D team, led by co-founder and CTO Neeraj Murarka, is in Vancouver.
How Bluzelle came about
Bains met Murarka through a mutual friend four years ago. Murarka had just exited a blockchain company in Silicon Valley and was moving back to Canada. Since they were both interested in blockchain technology, wanted to build a company, and had similar values, they started working together.
"This was so early on that we weren't sure what we wanted to do," recalls Bains. "So we started working on blockchain projects for enterprises."
With the increasing interest in blockchain projects in Asia, they moved to Singapore in 2016 to work on digital identity and payment systems for banks and insurers. Banks like OCBC, HSBC, and insurers like AIA and MSIG were among their customers.
"While doing these projects, we realized that there was something critical missing in the blockchain ecosystem – a database for all these projects to store their data on," explains Bains.
"Then we took a step back and noticed that this problem exists globally. As more apps are built, and more devices are being used per person, there's an exponential increase in the need for data storage. But the current internet infrastructure isn't ready to support that, and that's why you have all this unreliability and data breaches."
It was at this point, says Bains, that the team was able to define the problem, and the long-term value that Bluzelle could bring into the space. "That ended up to be a decentralized database, which is what we are building at Bluzelle today," he adds.
The ICO
Bluzelle raised US$19.5m within 48 hours in an initial coin offering (ICO) held in January this year.
"Don't be fooled, there was a lot of hard work put in before that," Bains laughs.
He says the team focused on building organic traction for Bluzelle.
"We always try to write on our own blog one to two times a week, and build up the subscriber base for our newsletter," he says. "We then try to get our blog posts cross-promoted on other platforms, or get articles written about us from other websites. We didn't really do any advertising or paid promotion, but we did have a good PR team that helped us write thought leadership articles that can be placed in different publications."
Bains also mentions that Bluzelle creates webinars, which would be recorded and shared for people to watch. "The focus was building our own content so people could understand the product, the business opportunity for it, and the team behind it."
For blockchain companies considering an ICO, Bains offers some advice.
1. Nail down the problem you're trying to solve.
"You've got to be confident enough that you can convince a VC to invest in you," says Bains. "Even though you might not be going to a VC, if a VC would buy into it, the product would be good enough for the general public to buy into it."
To take this further, he suggests that blockchain startups should get a couple of VCs to invest in the product before launching an ICO. "This will give the idea more validity and credibility," he says.
2. Never offer a token just for the sake of an ICO.
"Consider how the blockchain benefits the product you're working on," he says. "A token should never be offered for the sole purpose of an ICO."
3. Never rush into an ICO.
Bains urges fledgling blockchain startups to build up their community and support system first.
"If you rush it, you might get people to look at your product, but they might not understand what you're doing," he contends. "This could end up costing you more in the long term. Instead, focus on building an organic community that can support you all the way to your ICO."
Moving forward, building the developer community and developing the product will be Bluzelle's focus and also its greatest challenge.
Challenges
Bains reveals that for a long time, funding was a hurdle that Bluzelle needed to overcome.
Another obstacle was raising awareness for the product and cultivating a developer community around Bluzelle. "These are people who understand the product, and are open to referring it to their friends, who will then refer it to yet others," says Bains. To that end, the team will start by doing meetups and hackathons throughout Asia as well as in Vancouver and San Francisco.
"The biggest challenge we have right now is building that strong, solid support system from the ground up," he says.
The next challenge would be to hire good developers.
For years before its ICO, the Bluzelle team was made up of three people. But by the end of 2018, Bains estimates that there will be 25 team members – a majority of them are developers.
"There is a short supply of blockchain developers all around, so what we do is to hire good developers in general, and train them on blockchain technologies," he observes.
Hiring
Assuming that job candidates already have the technical know-how, Bains considers good communication an important skill.
"Because we have colleagues dispersed all around the world, communication is key to us being able to work together," he notes. "Everyone in the team should be able to explain technology well, write good emails, and work with the team."
Flexibility is also a vital trait. As Bains points out, "Can this person work on something for a couple of weeks and be able to change direction should there be a need for it?"
Finally, candidates should be able to deal with unknowns.
"Because this is brand-new technology, we're all figuring things out at the same time," shares Bains. "Unknowns create a lot of pressure-filled situations. They might not be able to know everything, but sometimes, things just need to get done. Working for a startup like Bluzelle means they need to be able to handle that."